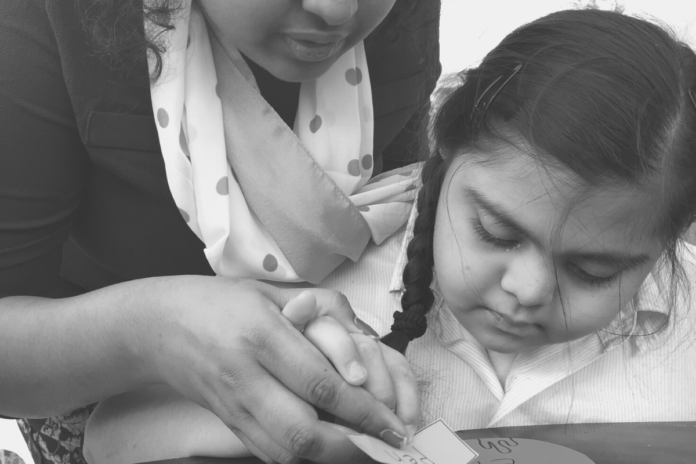 From an incomprehensible blabber to emphatically using a 'because' to express her strong denial  to do a particular thing, from a random scribble on a piece of paper to solving word problems and successfully writing composition with cues and prompts, I can truly say Kittu has grown from strength to strength. All this in great enthusiasm sometimes, at times under pressure or maybe just as a routine…. but yes she has come a long way.
The quote by David Allan Coe truly justifies this,"  It is not the beauty of a building you should look at; its the construction of the foundation that will stand the test of time."and yes, it is that strong foundation which has helped us to have the faith in Kittu that she can survive in this world with her own understandings of things & her strong opinions.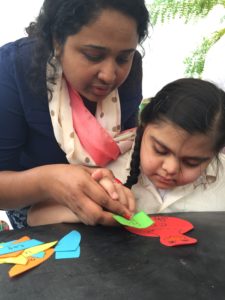 It has been a journey, at times tiresome, sometimes exhausting, but most of the time resulting in self learning. She has taught me different skills to deal with her behaviours, her needs & her as a person. The credit goes to her teachers, assistant teachers and volunteers in SPJ Sadhana since 2009 to Al Noor in Dubai since 2014. It has been a long journey of not only modifying her stubborn behaviour (comes naturally to Down Syndrome) but getting her focus and retaining interest in academics.
  I remember it was sometimes in Feb/ march of 2009 that I needed to take a call on Kittu's schooling. The turmoil was to make a choice between an integrated school and a school that caters to special needs. It wasn't an easy call.. the decision we would take then , would be life changing for Kittu. The conflict of heart and mind.. thousands of questions to which only we had answers as parents. After a lot of emotional dilemma and firm determination we decided Kittu needed to go to a school where she would feel she belonged . She needed that extra love, care, empathy and people around her who would be able to relate to her  & at the same time identify her needs and cater to them. And that place was SPJ Sadhana, Mumbai. The moment we stepped into the school, till we took a tour , it was an amazing experience. It just grew on us and we knew this was the place where Kittu belonged. The warm and endearing smile of Sr Gaitonde, Principal & a little interaction with Fionika was enough for us to make our decision.
Her 5 years in SPJ Sadhana were the most enriching. They nurtured her, groomed her and made her into an independent & confident child. And just when we felt this was how it was meant to be…God had different plans. CHANGE is inevitable & an essential feature of life….we saw it coming. It was time for Kittu to move on to a different world, to more learning & to perhaps more independence. We relocated to Dubai in 2014.
This was a different world altogether, what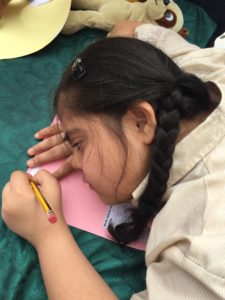 remained unchanged was the love, acceptance & empathy of people around. Life looked easier & the transition was smooth for her, she embraced the changes easily & the new world in turn, welcomed her warmly into its arms. As a parent, I had my own concerns & apprehensions about her adapting to a different culture, but I am glad she settled in quite easily, putting all my worries to rest. I feel strongly that her personality has a lot to do with this easy transition. She is a happy child, this probably helped her to settle in easily and embrace the changes that came her way. And yes, she had more opportunities to explore new avenues, have different experiences & she dealt with them with elan!
Life in Al Noor has been amazing. She has progressed in terms of Academics & has had a fair share of exposure to Extra Curricular activities. I'm proud of the fact that a number of people who have been associated with her on her road to learning, have shared the fact that she is an avid reader.  When I ask her what is the best thing she likes about School? Her spontaneous response: "OUTINGS" . That is hilarious but that is how it is. She has had in numerous opportunities to visit various hotels, restaurants & schools as part of the CSR Activities. She has had her "Super Hero" moments by Mirdiff city centre and her celebrity moments by being featured in some magazines & newspaper for participating in the CSR activities. I feel a decision taken in favour of your child, never goes wrong. We as parents had made the right choice for Kittu.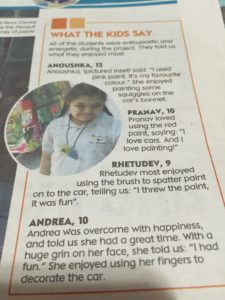 I think its about identifying the right opportunity & one's own ability to try to accomplish and achieve within their capacity. I strongly agree with the quote by Emily Dickinson: "Not knowing when the dawn will come I open every door." This is exactly what we as parents have tried to do with Kittu, open all avenues for her, inspire her to try, so what if she fails, she will learn in the bargain. Its that learning which will help her to apply her logic in her daily life. And I must share, she does not fear trying. She has a very competitive spirit. She takes up an opportunity as a challenge & gives in her best. Winning or losing is meaningless. I cannot be present by her side at every moment, holding her hand, guiding her, I need to make her capable enough to take her own decisions as the situation demands. And I am glad she is open to learning & translating that in her day to day life. For us its MISSION ACCOMPLISHED. Growing from strength to strength….Growing from her parents to her independent self…well translated!