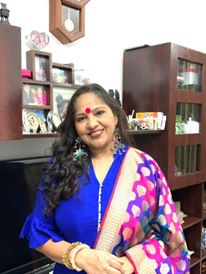 AWARD WINNING POETESS, NISHA TANDON (This was published in the 'She' FB group on account of 8th March being International Women's Day. Let's celebrate our talented women writers and poetesses)
Nisha Tandon is a fiery ambitious and determined writer who specializes in writing rhyming poetry in both English and Hindi.  A talented writer currently residing in Dubai, Nisha doesn't believe in resting on her laurels but instead is moving forward to clinch even more accolades. Her emotional, sensitive and empathetic poetry has won the hearts, souls and minds of myriads of her followers in social media and as an upcoming author and poetess.
Nisha's forte is writing on relationships that may entail complicated and complex emotions. Indeed, Nisha believes that in both fiction and non-fiction, writing on emotions is one of the most salient features and can never get  hackneyed nor outdated. She has carved a niche for herself in writing on all the combinations and permutations of love, life, loss and heartache. Women of all strata and sections of society can relate to her poetry and admire its depth, sincerity and honesty. This is whether she is writing on love between partners, siblings, children or relatives, what comes out is touching, poignant moments where readers shed tears unashamedly for the deep feelings she has managed to evoke.
Nisha's feminist poems are power packed and hard hitting and urge people to think before hurting others especially women. Indeed, women are more sinned against than sinning, an aspect one should look into, as International Women's Day, i.e., 8th March, is fast approaching. Though having feminist leanings, Nisha is also a believer in true love in marriage and her own happy family is a testimony to that. It is not surprising that she has won laurels in social media blogging poetry competitions, like those hosted by Asian Literary Society, Mompresso, Plethora Blogazine and Penmancy, among others.
Nisha's foray as a author took place with her maiden venture being her book entitled `Footprints' where her verses are realistic, soul-stirring and poignant. Though Nisha is admired for her writing in English, she herself prefers her Hindi poems and she feels when translated into English, one cannot appreciate its raw, unfiltered originality and beauty. She proved this with her second book `Chand Ehsaas' which is a compilation of her poems in Hindi. In fact, this is a concept held by many Indian writers who vouch that nothing can quite beat writing in one's mother tongue. English always comes a poor second. She avers, "My work weaves together human emotions in the little moments of life."
Hard-working, cheerful and a people's person, Nisha's next book in the pipeline is another compilation of poems tentatively entitled `Myriad Dreams'. In her new book, Nisha elucidates on her brave foray into dexterously revealing the co-existence between celebrations and heartache.
Though Nisha had dwelt in the realm of adult emotions and dissected enigmatic and something indefinable complexities in human behaviour, she has worked for many years as an entrepreneur of the H.R., of a Training Consultancy where she had interactions with personnel from hotels, training institutes and corporate entities. Being empathetic and sensitive to children, Nisha has also taught children at one of Delhi's elite schools. Truly, Nisha is a gifted multi-faceted personality wearing many colourful hats. Who says that one cannot be a jack of all trades and a master of them all, too?
By Heera Nawaz