An inspirational quote by Hodding Carter :
There are only two lasting bequests we can hope to give our children. 
One is roots; the other, wings.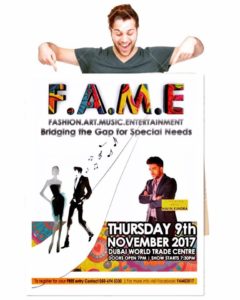 So let us provide them with a strong foundation in the form of our trust and belief in them and wings and freedom to fly high and explore the many opportunities that await them. Allow them to embrace them fearlessly with open arms.Journey to a destination becomes easy when you have people walk beside you, who believe in your win and will be there to support you in case you fall. 
 When I say it has been a wonderful journey of three months for our children I may not be doing complete justice to the efforts of team F.A.M.E. It has successfully provided a platform to our very talented children to show to the world that if given an opportunity they too can do wonders under the spotlight. There are no limitations that can restrict their desire to soar the sky.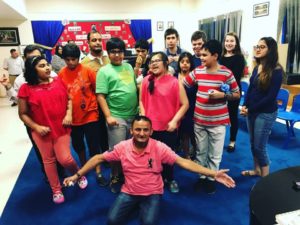 Week after week the models were taught the nuances of doing that perfect ramp walk. The stance, the poise, the speed with which they shall walk once given a cue and most of all that 100 watt smile they should hold that would enhance their confidence. That smile would be enough to entice the world. The intense rehearsals, painstakingly week after week, the event team kept bearing the tantrums, holding on to their patience with a warm smile on their faces all the time.The sweat and hard work of the team ensured that the show rocked in front of a packed audience in
World Trade Centre , Dubai in November 2017.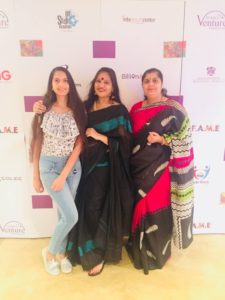 Our excitement as parents was also high as the event drew closer and we thoroughly made the most of our celebrity moments ,posing for the shutterbugs thanks to Khaleej Times, UAE's National Newspaper that covered the event. There was laughter, excitement, anxiety and happiness as we stood proudly in front of the sponsor board, welcoming our guests who had taken out time to witness our little angel on stage

.

No words seem enough to thank everyone who believed in our belief and have showered Anoushka with blessings and unconditional love. Somewhere all these people have played an important role in instilling confidence in my liltle one.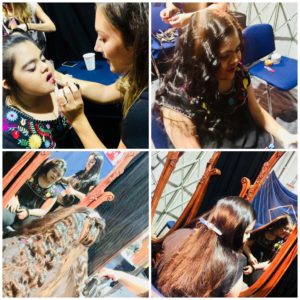 It would have been interesting to catch all the action backstage.But we did not want the children to be distracted with our presence. Thankfully, we sneakily managed all that was happening there.The makeup artists in action, enhancing the beauty of our beautiful models, doing up their hair, makeup and surprisingly , the children instead of getting hyper or uncomfortable, seemed to be thoroughly enjoying it.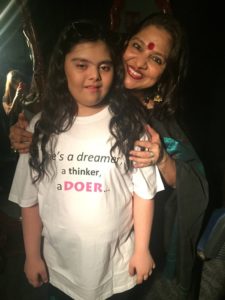 Our models were dressed in white tees with a powerful message printed on each to spread awareness in the society about the special section represented by the models of F.A.M.E.The stage was set and the event had performances by dancers, singers, key board players and last but not the least OUR SUPER MODELS.We had butterflies in our stomach, what if last minute they get intimidated by the crowd, the arc lights and loud music makes them nervous, what if they just refuse to step on stage. But each of them put all our worries to rest and put their best foot forward .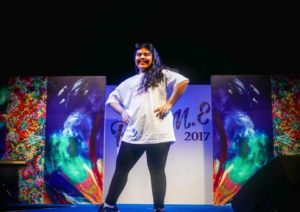 I waited with bated breath when I knew it was time for my star to walk the ramp. And did she? Yes!! With full attitude, style and like a complete rockstar. She owned the ramp for those few seconds . She walked in like a Diva, perfectly like a seasoned model, a bounce in her walk unlike their poised and measured steps ,blowing kisses to the hooting and cheering crowd, she halted at the edge of the ramp, paused, turned  and bounced back . Turning and throwing kisses once again to the crowd and left the stage forming a heart with her two little hands. With that …. once again she stole my heart.This left me teary eyed and completely overwhelmed. I could sense a lump in my throat… as I screamed "that's my daughter" . It may sound very stereotyped but yes I was on Cloud nine that day. Kittu had once again proved she is my little shining star,no stage fright, no hesitation whatsoever and she is meant to be under the spotlight.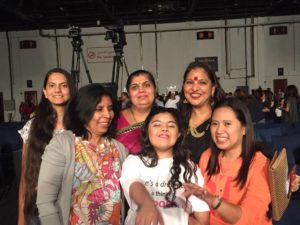 Kudos to Rosy and her dedicated team of choreographer, event manager, sponsors, technicians and most of all her family who have stood by her like a rock, believing in her to make a difference in lives of the children and youth with challenges.F.A.M.E. is a dedication to her very loving daughter Hannah. This is their small effort to create awareness in the society that with our support and belief we can instill confidence in them . That its alright for them to dream just like anyone else and their dreams too shall be fulfilled.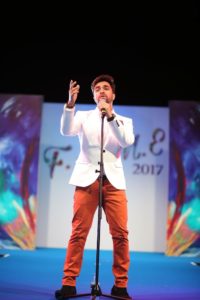 And to say the least Navin Kundra from London, a performer par excellence captivated the audience with his enthralling performance.His connect with the audience and his proximity with the performing kids left us speechless.  He ensured that the he did not for a moment take away the limelight from the stars of the day. His benevolence and large heartedness made him a super star . The show ended with his songs in English, Hindi, Punjabi and a mashup of all. It was surreal to see the crowd, irrespective of the age, country, nationality, just swaying to the harmonious beats in dimmed lighting. The ambiance was perfect . We did not want this magical evening to end… but like they say "All good things come to an end "so did this, with the hope that F.A.M.E. would return next year with an event bigger and better… this is the road to F.A.M.E. for our shining stars. And we await the magic to happen yet again this year .