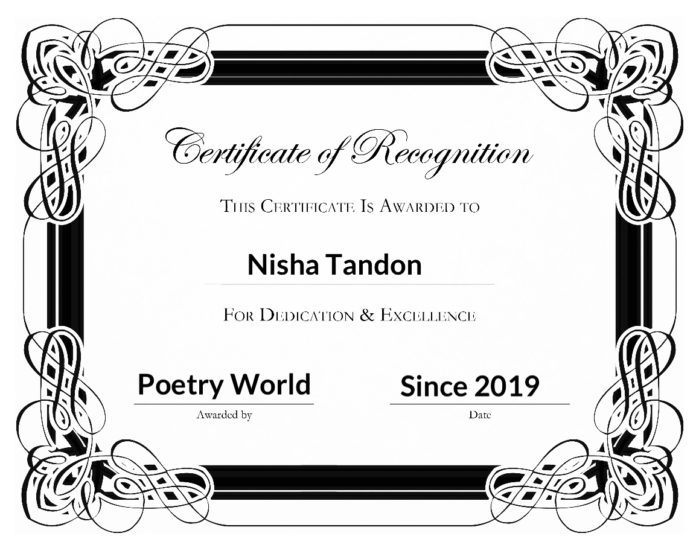 Poetry, a powerful form of literature, uses aesthetics and rhythmic qualities of a language. It arouses an emotional reaction with every piece allowing our innate passion to translate feelings into meaningful words with great imagery.
Writing poetry was something that came to me naturally since I was in my early teens. I realized , what I could not express in plain simple words, the flow of thoughts was better when expressed in lyrical phrases. Thence began my journey into the world of poetry. I have not followed any poet per say or a particular writing style but like the work of Gulzar ji and Dr. Kumar Vishwas who have their unique styles while also keeping their language really simple.
For me, poetry serves to evoke emotions in the readers using language that touches the soul of everyone it reaches. Perhaps due to this I have never ventured into the side of poetry that caters to a niche audience.
Initially I wrote poetry and filled many diaries with my random musings , until I was introduced to online portals where we could share our work, participate in online competitions and get reviews and constructive feedback. And this journey has benefited me as a poet and I seem to have matured in my expressions.
The first portal I joined was the Asian Literary Society upon recommendation of a friend and that proved to be a boon. I was appreciated as a poet who had a unique style of story telling with vivid descriptive imagery in each piece. I have been awarded with certificates on regular basis which has encouraged and motivated me to take my writing seriously. I am now a part of online portals like Plethora Blogazine,  Penmancy, Momspresso and Artoonsinn to name a few. I am happy to share my work with them and enhance my abilities in the poetic journey.