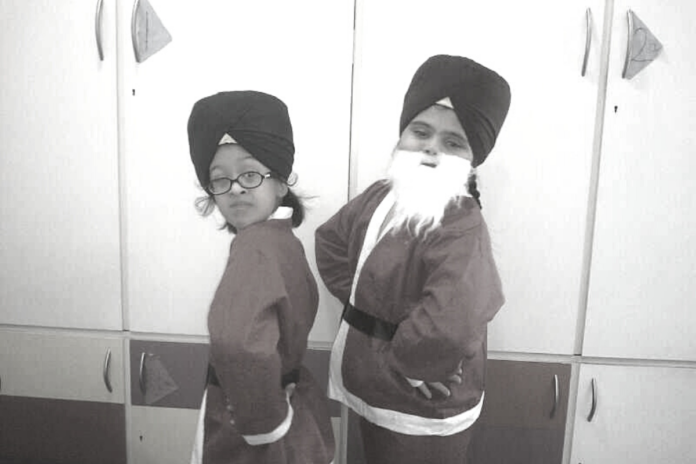 BFFs, the term coined here stands true to people of all ages,young and old, girls ,boys, men & women, and to our very special children too.Best friends not for namesake. Kittu and Sanjana are best friends in the truest sense. They share their medical ailment so to say,both are kids with Down syndrome. One doesn't need to go on physical appearances as that puts them poles apart…Kittu a big child…and Santana a petite one….but their hearts have never noticed these differences…..Laurel & Hardy and Tom & Jerry are some of the names given to them in school.
Everything they did, they did together. It was a task for the teachers to separate them. They played together..laughed together…ate together…discussed issues in language that was best understood by them….they even played pranks together. ..They love each other beyond our understanding. ..so much so that being apart hasn't affected them .They still connect on Skype and ask respective mothers to move away while they catch up on lost time….
Sanjana and Kittu have been part of all celebrations and performances in school together.They are like twins…separated at birth…We value their friendship and may God bless them with many happy years together…though they are apart now as we relocated to Dubai in 2014 but I know someday they will be back together and rock the world, once again. WE have visited Mumbai many times since 2014 and we make it a point that the girls meet atleast ones. And it is heartwarming to see that they share the same loving vibes.
The sports day in 2012 was a big learning experience for many of us….what the two kids taught us by their action…many a learned philosophers won't be able to. Kittu and Sanjana were a part of a relay race. They had to dress in a winter attire..A sweater, muffler, gloves and monkey cap…and run to the finishing line. As parents we were all cheering them and from the stands and then Kittu finished dressing and I remember shouting"Come on Kittu…run to the finishing line"…but Kittu refused to budge…We were all perplexed…and then we see…Sanjana hurrying and wearing the last bit of her attire…Kittu helped her wear it, waited for her and both held hands and ran to the finishing line…I have tears in my eyes right now when I write this….A lesson learnt that day….you may race ahead in time alone..and win…but if you have people you love to support you, you are a winner in life even if you lose the race….this is what I call friendship…BFF…personified.
They have performed together in school in most of the events. The confidence they both have as a team is beyond an expression. They have walked the ramp, performed Ganpati vandana, danced together on many occasions, been a part of the "Brick by Brick"campaign to raise funds for the new building for their school….We know them as a team…an inseparable duo….
Sr Gaitonde has been a blessing for our kids and thousands of others…she remains a mentor, guide and a friend to each one who crossed her path….big or small…The love she has spread amongs people is immense….We are blessed to have her as a guiding light in our life….BFF….A best friend for all…..