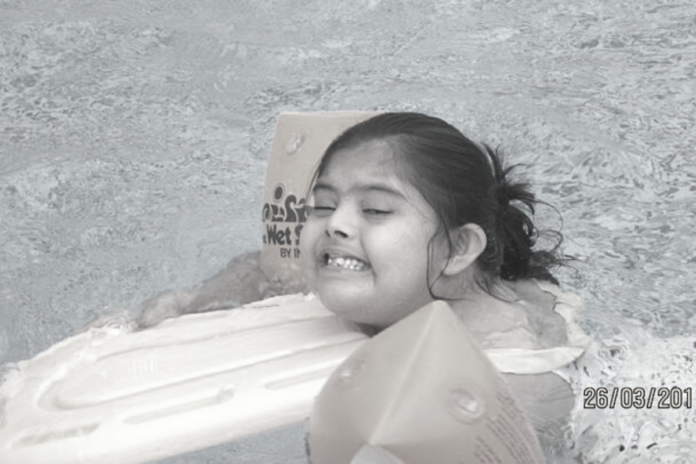 As parents we had this apprehension whether Kittu with her drawbacks would ever be able to swim…so essential in today's times when we have our family vacations to beach destinations. My older one does deep sea diving (thanks to our holiday in Maldives where she did a crash course from PADA). So to check that out we put the girls for swimming coaching in Fitness 5 in Mumbai. But to our amazement Kittu took to water like a fish does.She balanced well and surprisingly had no fear of depth (which till date I do…the only time I managed to keep my feet off the ground was for snorkeling in Coral Reef in Maldives…and I thought I would drown…in 1 foot deep water :(…). So I am happy that both the girls learnt swimming and are confident in water…capable of looking after themselves.
Thanks to my husband's job, who worked with The Taj Hotels, we got to stay in some of the best properties around the world…and somehow we always gave priority to properties with beaches as we all are water bodies….and Anoushka loves it as much, be it a sea, river, pool….anything at all. Being in water taught her to have control over her body, staying focused and balance well. It teaches her discipline and control over her motion in water too. Though she is able to hold herself well, we still prefer to give her arm floats for safety.
Being in water gives her wings to fly….literally….she feels liberated and absolutely HAPPY!!! So when she joined Al Noor Centre for Special Children in Dubai, they were very happy with the way she conducted herself right from changing into a costume, being in the pool to changing back into her uniform. She is an independent child and I feel happy that we gave her the push and freedom when needed. We never held her back and always let her try….in worst scenario, if there is any fear she herself would withdraw….but we didn't ever want her to be deprived of any opportunities…specially the ones we provided to our older daughter….if she can…Kittu definitely can…and she proves that to us….always….