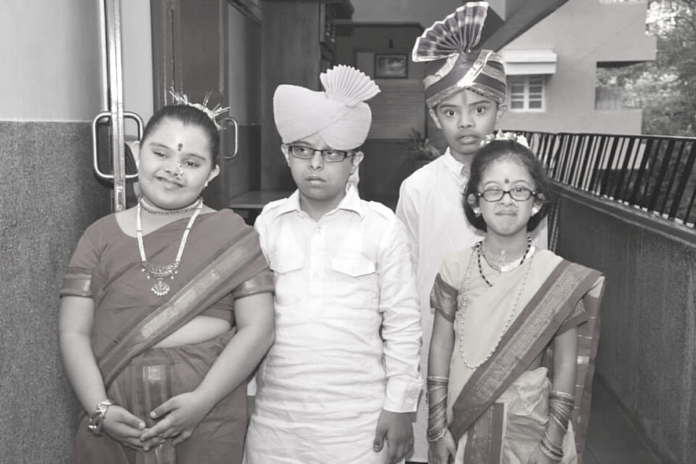 Kittu by nature has been a very lovable child sans any aggression but has typical traits of a down syndrome….stubbornness and she is an egoist.  You can't say a "don't" or a "no" to her. So if you want her to listen to you , you have to deal with her tactfully. And with almost 11 years of experience of dealing with her has made me a pro…well almost.
Once we decided that she goes to SPJ Sadhana school in Mumbai, we knew atleast we were on the right track. The positive vibes we got from the school, teachers, volunteers and Co workers ,we knew we have taken the right call for Kittu. We shall always remain grateful to Sr. Gaitonde,  Dr. Radhike  Khanna and their excellent team for grooming Kittu for 7 long years.Each year brought in a lot of change in her, in terms of behavior, confidence, academics and in her overall personality . We noticed an all round development in Kittu by the time we decided to relocate to Dubai this year.
SPJ Sadhana opened doors to many opportunities for Kittu. It gave her exposure in many fields, be it outings to various places, within & outside Mumbai, overnight camping with her teachers and friends, performances on the stage on various occasions, walking the ramp for a cause. The confidence with which she did all this made us proud parents.
The patience with which people in school dealt with her stubbornness is commendable. They mellowed her down. From a baby of 4 years who was difficult to deal with , she turned into a more mature girl of 10.It was easier to tackle her and she became more understanding.  Today we can reason out with her. And we have to thank SPJ for that.
She was a very loved child in school and very popular if I must say and she was well aware of that. She could throw an attitude when she wished to and she knew people were more than willing to oblige.
In school they tackled issues related to personal hygiene, peer interaction, discipline in sports & in class, dealing with SOS situations such as earthquake and fire drills, awareness about fundraising through various activities. Anoushka was very sensitive towards the needs of others. She would be given responsibility for other children in her class, to assist and aide and she did that with full sincerity (sometimes she got too overprotective and over possessive  which was not taken very positively by parents of the concerned child…well that's another story). But I am proud of the fact that she was never aggressive and never harmed a child knowingly.
The training in school has made her a very responsible child who can take care of self and her belongings. One thing needs a special mention. I was surprised when one day we were to use a washroom in a hotel and she guided me to the one with a female cutout at the door. I am happy that her visual perception of objects is very strong. She traveled to school in public transport , bought her own ticket and found a seat for herself. I have the school to thank and also my help, Anjana whose contribution towards Anoushka's progress needs a special mention. The strong foundation laid by SPJ Sadhana in Kittu's development will I'm sure only help her in her future endeavors and make her a more independent and self sufficient individual.
She has been groomed and nurtured by all the people at SPJ Sadhana and that remains our home for Anoushka…forever….from where she started her journey and a successful one…