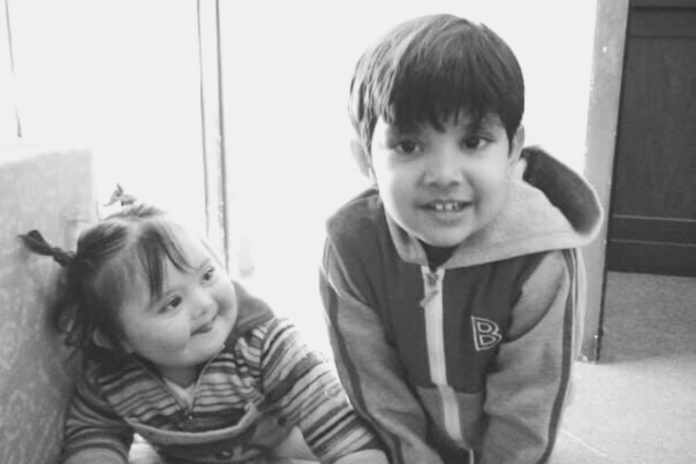 Life is a celebration as far as Kittu is concerned.She has learnt to live life king size!!!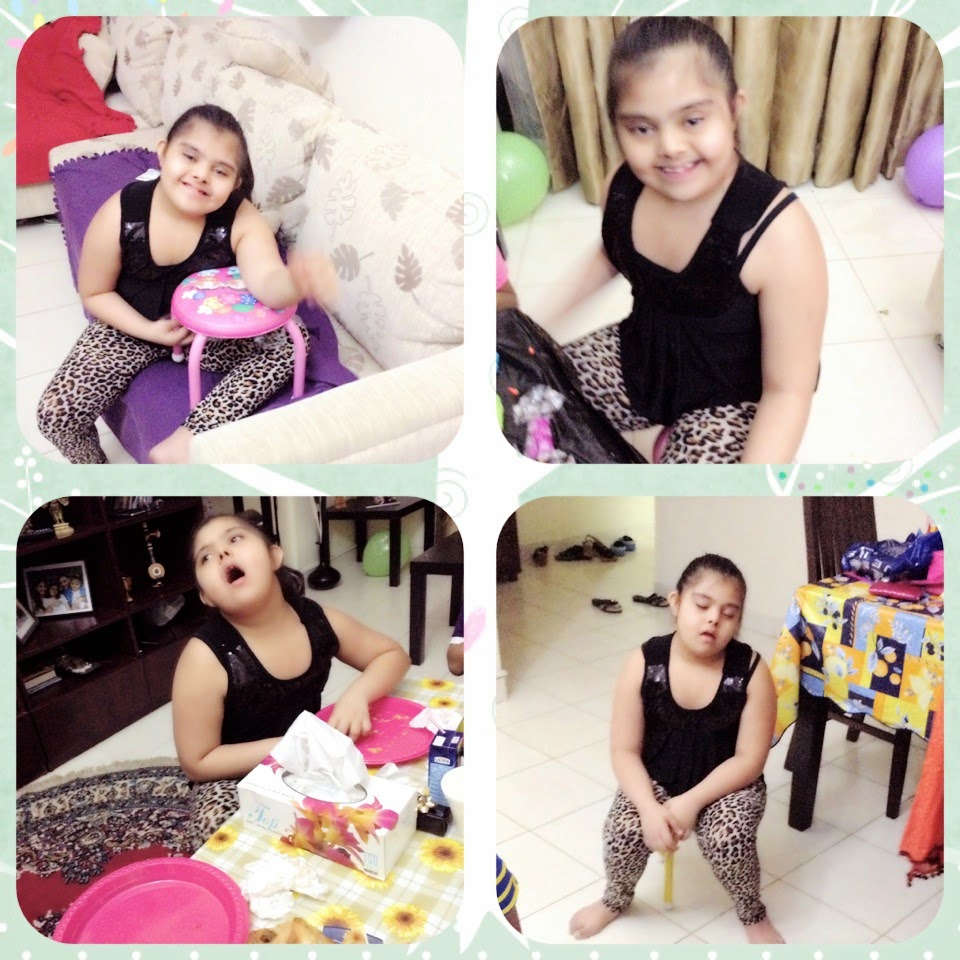 Literally! She ensures what she does, she does in style, of course under our guidance and with our assistance. Birthdays are an occasion for Kittu to celebrate the year that has passed by or should I say to welcome the year that is to come. Each year has been a memorable one, with a few things remaining unchanged: new attire, receive friends happily ensuring each one carries a birthday gift ( the bigger the gift,the bigger her happiness , ), cut a cake with an additional candle added each passing year and happily blowing away the candles amidst the melodious (or not so sometimes) singing of the traditional Happy birthday song….Happy Birthday to you Anoushka/Kittu…however the people addressed her…The excitement while running the knife through the cake each year was uncontrollable….the happiness and the look in her eyes spoke a million words…well more of expressions which the people around her understood well and felt happy that they have been a part of her celebrations. 

She was born in Delhi on 11th October 2003 and came into our lives to change it completely. Before her arrival we took life for granted but with her arrival came trials and tribulations which became life lessons. She taught us how to celebrate life, with her spirit. I have very few memories of her early birthday celebrations as we were in Sana'a, Yemen for her first 3 birthdays. So guess it would have been the run of the mill kind of birthdays, celebrating it with the friends from Sushil's workplace. When we relocated to Mumbai in 2007, she was all of four years and another year passed…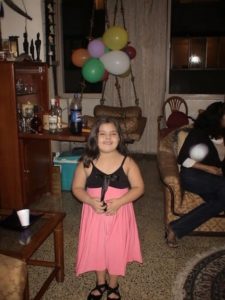 By 2009 when Kittu was 6 years old, she was well aware of the jubilance a birthday celebration could bring. So she would participate whole-heartedly in the preparations of the special day, right from decorations to selecting an attire to the finer details like the menu. The thought of celebrating at home with friends was very comforting. The kids had their space and parents happily had theirs. So a couple of birthdays was limited to the similar celebrations.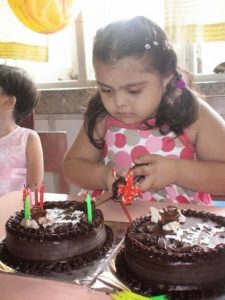 In 2010 she was in SPJ Sadhana School in Mumbai. The months' birthdays were generally celebrated together. So the parents pitched in to organize events that would hold the interest of these kids. Kittu in the picture here is seen happily awaiting the opportunity to cut the twin chocolate cakes. The focus here is only on the cake and she is ensuring the grip on the knife is firm.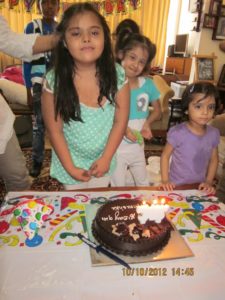 In 2011, at 8 years Kittu surely looked all grown up and knew what she wanted. She wished to have her classmates over to celebrate this special day with her. Preparations began and the house was decorated .Before I forget to mention ,the attires every year were special as they were gifted  by her favorite "Uncle" aka Rashmi, a close friend and a favourite of Kittu. The kids had a great time with their favourite pizzas, cheese sandwiches, pav bhaji, mocktails, chips and the likes….I recall the moment when Kittu had to give them their return gifts, it brought a sense of pride as the gifts were personalized t shirts, with the names of all her friends. Kittu read out each name and gave the right t shirt to the right kid…amazing !!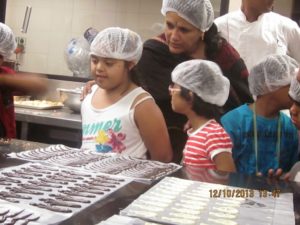 Her 10th birthday was special. Kittu invited her friends to Taj President Hotel, Mumbai, where my husband's friend Pankaj Sampat, GM was kind enough to organize a tour of the hotel for the kids and show them various departments, Coffee Shop, Salad section and housekeeping followed by a lavish treat. The kids were happy to see how the cakes were baked and icing was done. They were then taken to a guest room and were excited to see how the housekeeping did up the room before a guest arrival.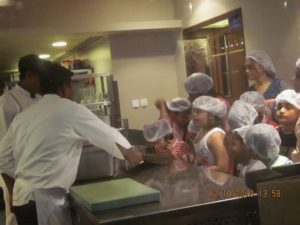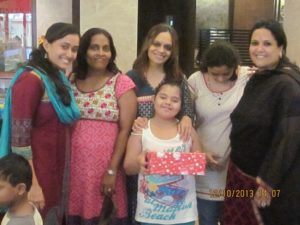 They were then seated comfortably in the coffee shop where they got to see an alumni of their school, hired by the hotel dishing out yummy pasta & pizza for the kids…proudly!!! The teachers were happy to see their ex student so confidently handling the pasta/pizza counter. A ray of hope for these youngsters….the charm of eating this pasta was unique…the reason well known now….Kittu was ecstatic to get all the attention from the staff in the hotel and a lovely gift from all her loving teachers. 
Her teachers have been a special part of her journey, teaching her at every step the importance of each event in their life. The teachers sure did pamper her with all their attention & adulation, not only on her birthday but every single day of her being with them. Teachers are special & will remain so always!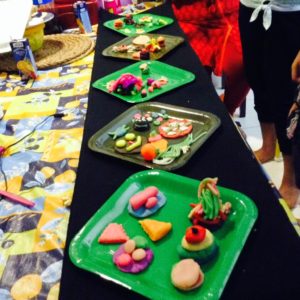 2014 was a year when the things took a drastic turn in our lives. We decided to relocate to Dubai so that Kittu would get out of her comfort zone and be pushed a little more to perform better. So what if the place was new, Kittu with her loving ways soon made friends of all ages…youngest being Nysah who is 2 years to Shraddha who is in her late 20s. What filled us with happiness is that each of them participated willingly to ensure Kittu felt special on a special day.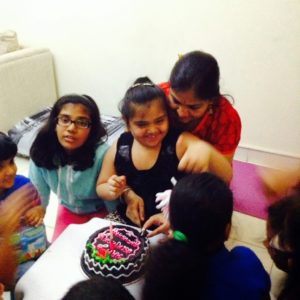 We decided to celebrate her 11th birthday by doing everything that Kittu loved. So an idea sparked off! Why not involve all the kids in an activity that Kittu immensely enjoys …and no prize for guessing what it is!!! Claydoh activity being one and cooking being the other. So we decided to club the two and keep a competition . The invitees were divided into groups and they were asked to dish out a platter with innovation in cooking..all the dishes they thought Kittu loved to eat. And voila!!! the result is for you to see. It was the most difficult thing to judge, each group came up with such a lovely platter that we couldn't help giving away prizes to everyone…well deserved.This was followed by the regular cake cutting, snacks and giving away return gifts…a happy ending to a day Kittu will not forget for long…neither will we.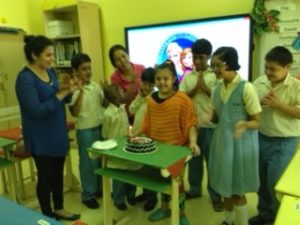 The celebrations didn't end there…more to follow. How could we forget the kids at her school..Al Noor. So our little excited soul went happily to school all dressed up. During the snack break cake cutting session was done amidst a lot of excitement and shor sharaba…it was wonderful to see how her teacher Dipti had Frozen poster displayed in the backdrop as Kittu , the latest fad .The cake distribution was followed by distribution of snack box & a return gift for all….so all in all…these 11 years of Kittu's life have had many memorable moments and a few special because of her birthday celebrations…moments we all cherish….and happier moments to come…