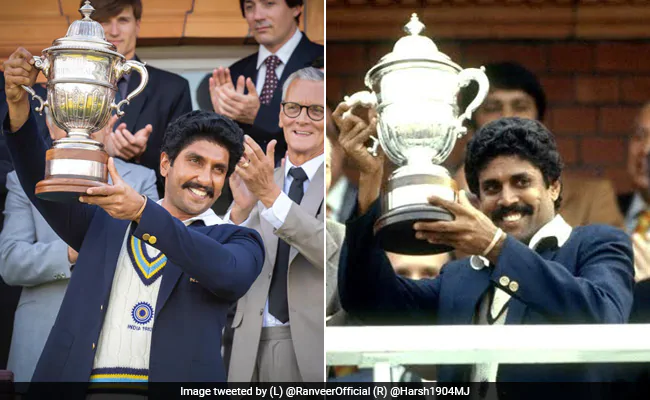 "83" what an exhilarating movie! India's maiden World Cup victory!!! It was a life changing moment in cricket for India, post which they were finally noticed and taken seriously. Our generation can still relate to it since this particular series occurred when we were in our early teens, and the stars of the World cup were the poster boys of Indian Sports. Since it's inception, it was on my checklist & I am glad despite covid relapse , we managed to watch it in theatres.
Right from the word go, I had a perpetual smile on my face, characterisation was apt and amidst the smiles there were overwhelming moments, when I could feel a tear roll down my cheek.(Special mention as I do not cry easily in movies.)  The cricket buff in me was clapping at every achievement, disappointed at every loss, it was that real.The casting was introduced very creatively, as the passports of original players were shown being stamped, the characters who played the role in the movie were at the check in counter. That brought us more clarity about the players.
A few things that had me were:
– Kapil paaji catching a ball in the audience when an Indian player hit a six. That was the surprise element !
– Amidst the frenzy and swaying flags of other countries, a solo Indian flag appears , held by a little boy who had deep faith in his hero Kapil Dev and that instills hope in the team.
– The governor makes a taxi wait and keep the meter running because he would be back soon. He knew well India stood no chance but that was the defining moment. Kapil made unbeatable 175 and India made it's place in the semi finals!! Meter bill amounted to 300 pounds and the Governor was happy to pay!
– Deepika's inspirational monologue as Romi, Kapil's wife to Kapil just ahead of the finals. Each of us holds a dream in our heart and we are nervous just before it is about to manifest. Kapil was a small town boy but dreamt of playing at Lord's and as Romi spoke, Kapil saw the Indian flag going up! Ufff, what a moment… I had goosebumps.
– Very intelligently introducing Sachin Tendulkar as a child artist who expresses his desire to his elder brother, to play for India. A legend in the making.
– Glimpses of old clips while few turning points were being shown in "83" was the high point. The winning shots, the ball that seriously injured Dilip Vengsarkar, Kapil Dev receiving the world cup and many more.
-Small things were taken care of. The famous TV announcer Salma Sultan from Doordarshan was roped in too.
– Indira Gandhi's technique to tone down riots between Hindus and Muslims by ensuring the cricket match was transmitted in India and the way in which people from all communities came together to watch the match was heartening.
The one liners were hilarious and each one justified their roles. For the love of cricket and to relive those moments of ecstasy and pride, I will highly recommend "83."